In a sign that the wet season has well and truly kicked in, we've seen the number of available rentals now up to 115 on realestate.com.au.
Despite the rise, the team here are still leasing properties and getting plenty of applications which shows with only having a 5.5% vacancy rate for October – a good sign for the market!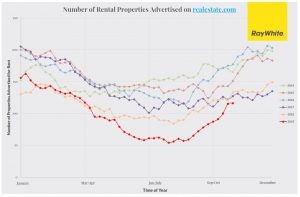 As the weather warms up and the tourists start to leave town, we've seen a flow on effect with a large increase in all configuration of homes. From August through September we've seen the number of 1 – 2 bedroom homes double, with a similar rise in 3 bedroom homes to. The sharp increase can be seen in the table below.

If you have any questions on the current rental market, or if we can assist you with any of your real estate needs, please feel free to contact the team at Ray White Broome today on 9192 2122.