After a busy July, we saw a steady month throughout August with a total of 57 rental properties available and still tracking well below the last few years of statistics.
As we head out of the dry season, we expect these numbers start to creep back up as the tourist season comes to an end. This seasonal trend shows year after year and is reflected in the graph below.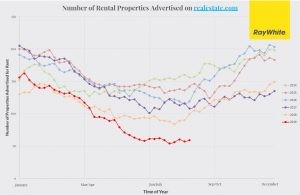 As the tourist start to leave town, we saw a slight increase in one-bedroom units with this number set to continue to rise as we move through September/October.
Number of Bedrooms
Number of Rentals

July

Number of Rentals

August

Overall Price Range
Average Price Range
1
8
12
$230- $449
$240 – $350
2
10
10
$280 – $480
$280 – $400
3
20
20
$350 – $850
$480- $650
4
20
15
$495- $1100
$650 – $800
If you have any questions on the current rental market, or if we can assist you with any of your real estate needs, please feel free to contact the team at Ray White Broome today on 9192 2122.