August 2021 Results
Our team has been hard at work last month again. Some key figures for August:
Appraisals:55
New Listings: 15
Inspections: 279
Written offers: 29
Under offer: 29
Settled Sales: 12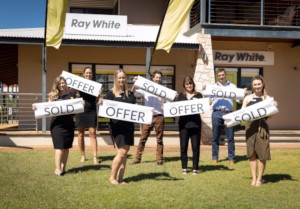 Ray White Online Auction Success
Ray White Broome's award winning sales team is going from strength to strength and not only do they continue to achieve great results for their loyal clients but they continue to look at ways to do things better.
With last year COVID-19 lockdown the sales team had the opportunity to expand and fine tune their selling methods. One method that was perfect for lockdown was Openn Negotiation; a relatively new on line auction selling method. The team have been so successful with Openn that Ray Whites leading agent Giles Tipping was recognised as a Master Agent and WA Rising Star Finalists for 2020.
Giles has now successfully listed & sold 31 properties under this selling method. Giles believes this established online property purchasing platform is designed to be transparent and fair for both buyers and sellers. He recently commented "Openn Negotiation allows qualified buyers to openly negotiate on price with the advantage of knowing exactly how many real competing buyers there are. It's the only process you can really trust because as a buyer or seller, you're in complete control. This innovative process works for you! "
The Ray White selling team continue to achieve amazing results with all selling methods and understand that a selling method must be tailored to a seller's needs. Whether its Openn Negotiation, Private Treaty or Auction the team at Ray White Broome are your local experts and trusted team.
If you would like any further information in regards to the Openn Negotiation selling method, or if you have any other real estate needs please contact our office on 9192 2122 or pop into our office at 1 / 4 Sanctuary Road, Cable Beach.